Negotiate The Best Car Price Possible!
Our free How to Negotiate Car Price: The Ultimate Money Saving Guide reveals insider tips on how to negotiate the best deal on a new car, used car, or trade-in! We also break down which additional coverage options are beneficial to your wallet and budget.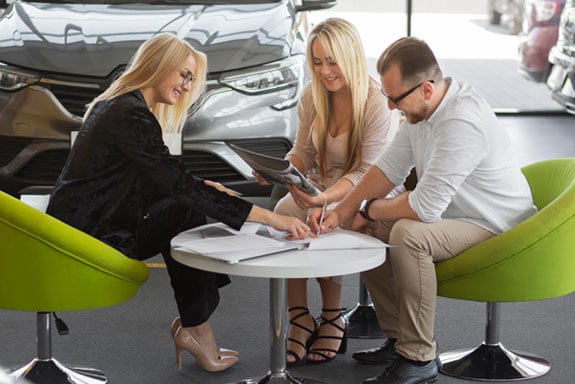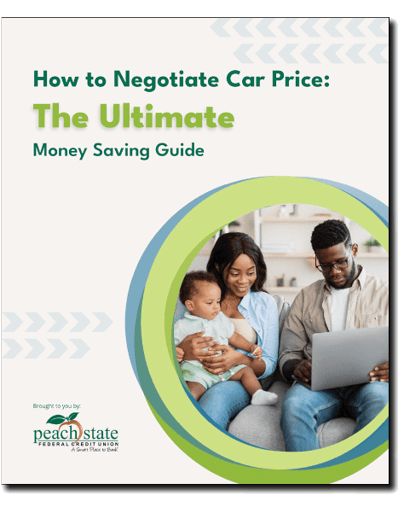 Introduction
Before heading out to purchase your next new or pre-owned vehicle, take some time to prepare and research what you can expect to save yourself time, hassle, and money. Although the news may shift surrounding rising or falling car prices, possible inventory shortages as well as other market abnormalities, there is one tried and true message you can rely on…the cost of a car, truck or SUV will go up without fail.

The average price of a new light vehicle increased from $34,500 to $42,380 over the last five years. Used vehicles show a similar trend, with the average cost steadily increasing from $19,189 to $26,700. [SS1] [r2] [r3] Counting on the fact that prices will continue to rise and acknowledging the fact that there are certain times throughout the year where you may experience potential added savings, if you need a car now, it's time to start shopping.

Knowing how to negotiate car price and heading into the discussions with a car loan pre-approval are how you can tap into additional savings. Dealerships are in the business of turning a profit, and salespeople are usually skilled at padding the final cost. After all, many rely on commissions to round out their monthly salary. Your job – as a car buyer – is to get the best deal possible by taking advantage of discounts, rebates, and arming yourself with little-known secrets about how the automobile industry works.
How to Negotiate Car Price

The adage "knowledge is power" holds true when shopping for a new or pre-owned vehicle. Today's car buyers enjoy access to vast information at the tip of their fingers. Perhaps the most valuable resource, in terms of negotiating a car deal is Kelly Blue Book.

Kelly Blue Book allows anyone with access to the internet to input the make, model, and mileage of a vehicle they are interested in purchasing. It also hones in on pricing in a designated zip code, condition, and consumer reviews. There are also a few insider tricks that can be used to negotiate pricing for a vehicle sitting on the lot that few people recognize.

For example, Kelly Blue Book distinguishes fair average prices across dealers, certified dealers, and private parties. A salesperson may try to stand firm on a price that reflects their professional category. But as a car buyer, point out that you can just as easily buy the same make and model from somewhere else and save money. An experienced car salesperson will likely have a negotiating ploy to move you off that point. But more likely than not, they'll come down a notch in an effort to make the sale if you press the issue.

There are wide-reaching online resources that provide buyers with hard data and dealerships are keenly aware of these platforms. Being polite but firm about the lowest listed option typically leads to a price reduction. When negotiating a new versus pre-owned vehicle deal, there are other factors you must keep in mind.

If this is your first time purchasing and negotiating a vehicle purchase price, review our blog, "9 Things Every First Time Car Buyer Should Know."
(continued below)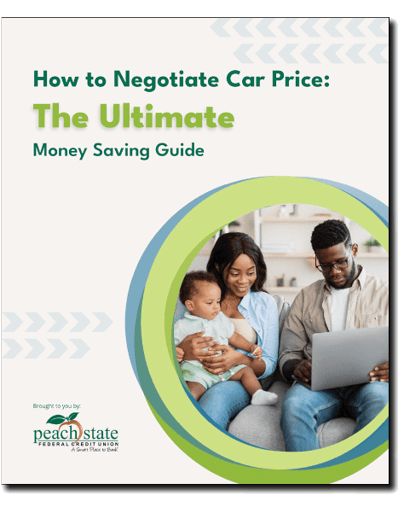 Tips for Negotiating New Car Prices

It's important to know that new car dealership prices are driven by market forces and inventory. Having a little knowledge about where makes and models are positioned can prove invaluable regarding how to negotiate car price.

When inventories are low, dealers generally feel the pressure to maximize final sale prices to cover their overhead. By that same token, when short-term price peaks occur due to inventory shortfalls, car sellers may see fewer buyers, and that can put them in a position to negotiate. In other words, inventory shortage and accompanying price increases are an opportunity to save by negotiating a lower purchase price. To fully understand what is happening in your market, research is key before employing any strategy.

It may sound counterintuitive, but new car sellers are also in a position to negotiate when they are overstocked with specific makes and models. Dealerships are prone to offer discounts and promote rebates over worries these vehicles will linger into the following year.

During the fourth quarter of any given year, dealerships are already making room for new models. From their perspective, current year vehicles are considered used cars that simply haven't been driven yet. Once January 1st arrives, the price of last year's cars, trucks, and SUVs will likely drop. Perhaps the best way to negotiate a new car price is to point out that their overstocked inventory will be worth a fraction of its sticker price after New Year's Day. Here are a few more tips for negotiating new car prices that may help you save on the purchase price.
Rebates: It's not uncommon for salespeople to tell you rebates are only available if you pay the sticker price. That's simply not the case. Rebates are usually issued by manufacturers regardless of what you pay. The mechanism is used by manufacturers to establish brand loyalty.
Haggling: Don't hesitate to negotiate with multiple dealers and use their prices as leverage. After visiting a few dealerships, feel free to revisit the negotiations until you truly achieve the best possible deal.
Yes, But: Knowing when to say yes is important to closing the best deal possible. If you're happy with the deal, make the commitment so you don't lose out; however, be sure to add in a "but" that refers to a separate discussion about your trade-in. That will give you another chance to negotiate the price and maybe get a little more money for your trade-in.
Keep Your Options Open: When dealers know you have your heart set on one make and model, they may not feel as compelled to negotiate. Instead of visiting just one dealership, keep your options open and shop around to see which makes and models can get the job done, while staying within your budget.
Know Your Budget: Knowing what you can afford is the most important part of negotiations. Review our Auto Loan Calculator and Dealer vs. Credit Union Financing Calculator to determine a budget for your monthly car payment or the vehicle purchase price.
Get Pre-Approved: Another great tip to aid in the negotiations and cost savings is to get pre-approved for a new car loan. Credit unions offer low-rate new car loans, and pre-approval is only considered a soft pull on your credit. That means it doesn't significantly impact your credit score. Having what amounts to cash in hand is a powerful asset to note during negotiations.
And if time allows, don't be embarrassed to make a rock-bottom offer and walk away if it's rejected. Remember to leave your contact information and keep your phone on in case the salesperson reconsiders and gets back in touch.

Tips for Negotiating Used Car Prices

Knowing how to negotiate car price with pre-owned dealerships involves understanding the market forces that affect the industry. Inventory that times out on new vehicle lots finds its way to the used side of the dealership.

Should they linger there too long, dealerships may be willing to sell them at a reduced price. Under this scenario, you would be buying a vehicle based on used conditions and pricing while essentially being the first person to own the car, truck, or SUV.

Aside from getting new car value at a pre-owned price, online resources are incredibly valuable when purchasing a used vehicle. Along with narrowing down average resale values and reviews on Kelly Blue Book, Consumer Reports, and others, platforms such as Craigslist have excellent deals from private parties. This information can be strategically put to work and save you money. Consider the following tips for negotiating pre-owned car prices.
Private Parties: Consumer reports provide reviews and information regarding recalls and shortcomings of models. When talking price with a private seller, indicate you are worried these issues will result in expensive repairs down the road. That's a good reason to knock a few dollars off the asking price which will result in additional savings.
Dealerships: If you find a vehicle that meets your needs and falls within your price range, search online for others in its class. Find a vehicle with similar mileage in good condition at a lower price. A salesperson will likely take that price seriously and try to match it. Keep in mind that if you're willing to drive to another county, you could save even more.
Used Car loans: Getting pre-approved for a used car loan empowers buyers during negotiations because it signals you mean business and it is like having cash in hand. It also establishes a maximum spending threshold without harming your credit score and keeps you within your comfortable monthly budget.
Be Flexible: Being flexible with the make, model and features you have in mind will open up the possibilities and allow more room for negotiating a price that makes you and your budget happy.
Budget Matters: Knowing what you can afford is the most important part of negotiations. Review our Auto Loan Calculator and Dealer vs. Credit Union Financing Calculator to determine an affordable monthly car payment or purchase price that works for your wallet.
Get Pre-Approved: Another great tip to aid in the negotiations and cost savings is to get pre-approved for a car loan. Showing your buyer that you are ready to commit may help them understand you're ready to negotiate and mean business.
One item to consider when buying a pre-owned car involves trade-in values. If you decide to work with a private seller, you will either have to sell your vehicle yourself or keep it as a backup. When going through a dealership, they typically accept your trade in and put its value towards your next purchase.

Tips for Negotiating Your Trade-In

Maximizing your trade-in deal is a significant factor in negotiating car price. The amount dealerships are willing to offer can be taken off the top of your car loan financing. It's generally a good idea to open a separate negotiation after a deal has been made on the new or pre-owned vehicle. This strategy sidesteps salespeople using the trade-in amount as leverage to bump up the purchase price. The most effective tips for negotiating your trade-in involve using resources to strategically boost value.
Mechanical Issues: Platforms such as Edmunds and Consumer Reports highlight the failings of makes and models. By conducting some due diligence, you make yourself aware of any potential issues they may bring up ahead of time. You can also bring invoices for updates and repairs made while you owned the vehicle. Possessing proof the vehicle has been brought up to date takes away the dealer's leverage to lower the trade-in figure.
Know the Value: Run the numbers through the Kelly Blue Book and other platforms to generate average trade-in value. There's no reason to settle for less just because you negotiated a great deal on your next vehicle.
Have it Detailed: When trading in an older model, having it cleaned, washed, and waxed ranks among the more cost-effective strategies. In real estate circles, they call it "curbside appeal." To car sellers, new car shine is like eye candy. You'll likely get a better trade-in offer if the vehicle sparkles inside and out.
Having up-to-date market information and learning new techniques on how to negotiate car price can get you to the finish line, but before signing your car loan application and driving off the lot in your new ride, there are a few additional items worth considering.
(continued below)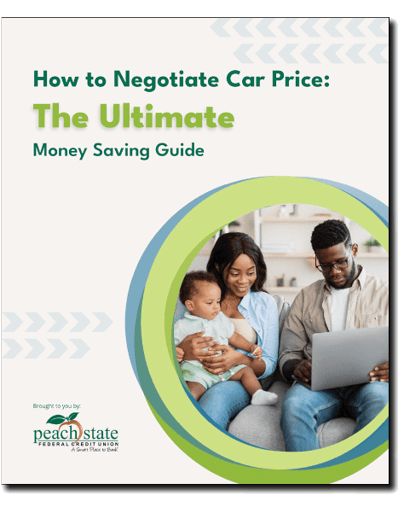 Negotiating Additional Coverage Options

Although negotiating additional coverage options is not necessarily part of the new or used vehicle cost, they have a substantial impact on monthly budgets, car loan repayment terms, and unfortunate losses. Without specific coverage in place, you could find yourself on the hook for expensive repairs and even owing additional money on top of the car loan if the vehicle is totaled in a collision. These rank among the common coverages that benefit those in the market for their next vehicle.
GAP Insurance (GAP Coverage)

Extended Car Warranty


Payment Protection Insurance (Debt Protection)

How to Get Pre-Approved For Your Car loan