Members: If you need to order a new debit card, please call us at 855.889.4328 or email Card Services.
Show You Care with Every Purchase
Use Your Debit Card to Give Back
You'll have meaningful impact in your community when you use your Peach State Visa Debit Card instead of cash, checks, or other cards.
With each debit card purchase you make, we'll donate a nickel to the Peach State FCU C.A.R.E.S. Foundation which makes financial donations to community programs that enrich the lives of our neighbors.1
Support non-profits, schools, and the arts in your community with every purchase.

You pay no additional fees or charges from the C.A.R.E.S. program.

Peach State supports over 150+ local organizations

The spending power of our members benefits the community as a whole.
1 $0.05 per transaction of Peach State Federal Credit Union's merchant interchange income from our Visa Debit Card program is used to benefit the communities we serve. Peach State will determine where/how funds are disbursed. This does not affect members' accounts, nor will any member information be disclosed. You will not incur any additional fees or charges from this program. Merchant interchange income is derived from fees that a merchant pays to accept credit/debit card payments. The C.A.R.E.S. program may or may not apply to ATM transactions, certain commercial transactions, or other transactions not processed by Visa.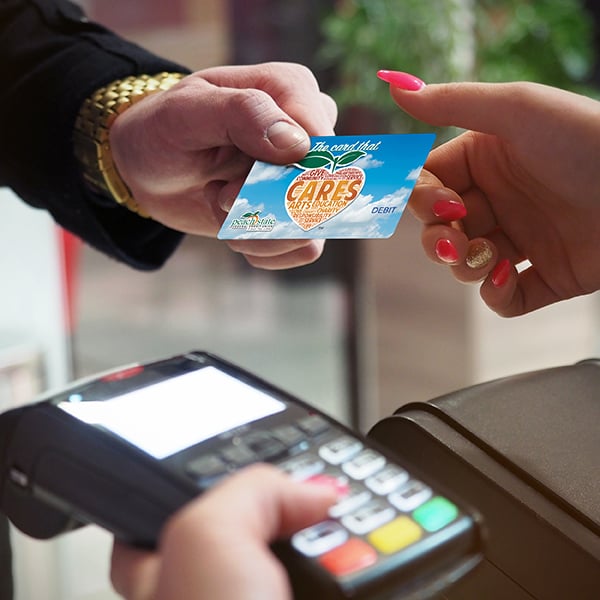 Visa Debit Card Features and Benefits
Convenience is Key!
We know that your time is valuable and convenience is key when it comes to managing your finances. With our Visa Debit Card, you'll enjoy the flexibility of accessing your money whenever you need it.
To request a card simply contact us or visit your nearest branch location today!
Your Peach State Visa Debit Card can be used anywhere that Visa is accepted.

FREE ATM deposits and withdrawals at Peach State ATMs.1
Management of your debit card is easy with Online and Mobile Banking – you can temporarily or permanently turn your card on and off if it's lost, stolen, or you suspect fraud.

Enable low balance alerts, transaction alerts and more.
---
1 Balance inquiries are $0.50 each. View all fees.
To Report a Lost or Stolen Debit or ATM Card: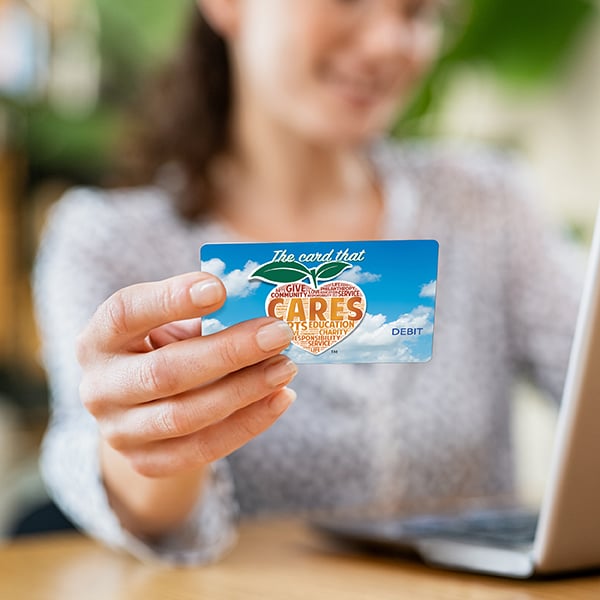 A SMART WAY TO SAVE
Debit Card Round Up Program
Let us help you find smarter ways to bank! When you participate in our Round Up Program, every purchase you make with your Visa Debit Card will be rounded up to the nearest dollar. These excess funds will be transferred to your Round Up Savings Account overnight.2
Every debit card purchase is an opportunity to save.

We'll do the math for you and round up your purchases to the nearest dollar.

Shop as usual, save as you go!

Each night the additional funds will be deposited into a special Round Up Savings account.
Enroll in the Visa Debit Card Round Up Program today!
---
2 A separate club account will automatically be opened when signing up for and using the Visa Debit Card Round Up program.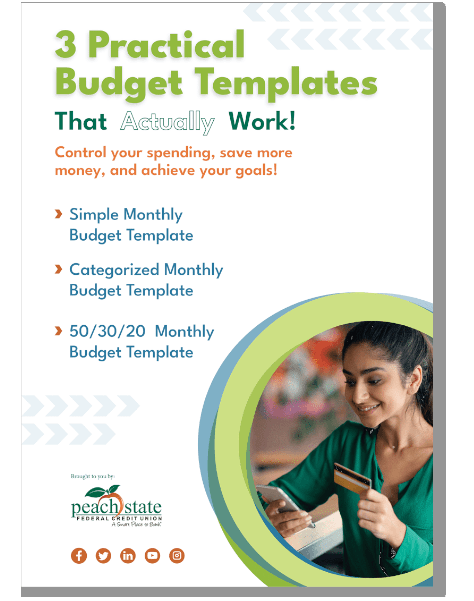 3 Free Templates!
Budgeting Templates
Stay in control of your finances! These budgeting templates make it easy to stay on top of your monthly spending and create good habits.
Fillable online
Calculates in real-time
Easy to use and understand
Frequently Asked Questions
These are a few of the commonly asked questions about Debit Cards.